So, you've created a selling page and an event page. What's next? Ideally, the next step would be to add tickets to your page. We're here to help you understand how you can Update or Add Tickets to Your Page.
Step 1
To allow people to buy tickets to your event, you'll need to add one or more ticket categories. Don't forget to define an allocation after you've created it. Click the Create Ticket button on the event page in the dashboard. Fill up the required information.

Step 2
Set the maximum number of tickets for the ticket type that may be purchased (this means the number of tickets you want to sell.) When the maximum limit is reached, the ticket type will still be offered on the event listing page, but it will be marked as sold out. You can opt to create a ticket at this point and subsequently add other ticket types if necessary.
Step 3
Alternatively, click the Show Advanced Options link to explore more choices. Tickets will be available for purchase instantly by default and will be removed from the market one hour before the event. If you select a future date for the tickets to go on sale, they will show up on the site but will be listed as Pending on Sale. Use the Enable option to determine whether or not the ticket is displayed on the live listing.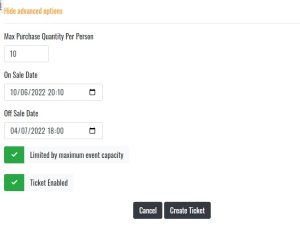 By default, the maximum event capacity (if one has been selected in the advanced settings on the Create/Edit Event page) will limit the number of tickets available. You may want to disable this for a certain ticket category, such as sundry items that have no bearing on the event capacity.

You can alter a ticket type by clicking the Edit button (pencil icon) on the tickets you want to update.
There! Now you can update or add tickets to your Ticket24/7 page in just three easy steps. It's that simple.