Do you wish to create an event page with us? We've put together a step-by-step guide to help you understand how you can make an event page in just five simple and easy steps.
Step 1
The very first thing you need to do is to click the Events in the seller dashboard then click Add New. Once the Create Event page appears, you can fill in all of the details about your forthcoming event. Choose a catchy title and don't forget to include an image! To upload your own image, simply click the default image.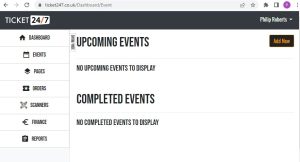 Step 2
The next step is to find a venue. To do this, simply start typing in the Venue Search box. After that, you'll be given a choice of possible locations from which to choose. If there isn't a venue in the system that you're looking for, select Add New Venue, enter the location, and save the venue. This is something you'll only have to do only once because the next time you create an event, you'll be able to search for and select the location as described above.
Step 3
In the Description box, write out all you know about the event. You don't have to turn this section into a short story, just include brief details about the artist, the performance schedule, who would be allowed to attend, the address, and what to expect during the event. Remember that the more information you provide, the fewer queries clients will have.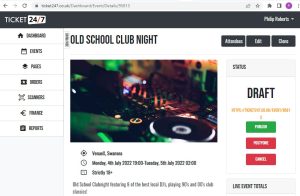 You can even use the short description section to enter a description that's SEO friendly for when a client posts the event on Facebook, such as Old School Club Night at VenueX, Swansea, 4th July 2022.

Step 4
Now for the final step, create an Event when you've completed providing the details. The Event Details screen will appear, where you may add tickets, view attendance, check live sales totals, and more. The listing will be added in the Draft mode at first (refer to the previous images), and it will not be visible on the site until you select the Publish button in the Status section.
So, there you have it! Your Event Page is now up and running with us on Ticket24/7. Check out our page on How to Add Tickets to your Ticket24/7 account page for people to buy them.