With ticket247's new announcement feature, retargeting existing buyers and advertising tickets for your upcoming event is as easy as the click of a button. So, here's how it works;
When a customer buys tickets for your event, they will be automatically registered for notifications about your page (unless they opt-out). This means they'll receive updates about your upcoming events and be the first to know when a new gig is announced! This is great for brand loyalty as being the first to know about a new event makes your buyers feel special, and will give them the opportunity to receive good deals such as early bird tickets and more!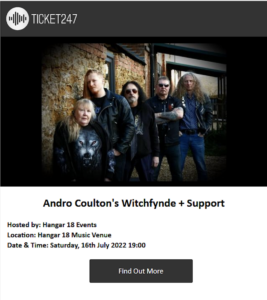 When uploading an event, on the event management page, you can select a date and time to announce your new event. You can announce 1 event every 24 hours and on the date and time specified, every one of your subscribers will receive an email notification with a link to purchase tickets – a great form of remarketing and just one way that Ticket247 helps you maximise your ticket sales!
If you run multiple pages with different genres, you can build up a subscriber list for each one separately, meaning that you are targeting the right set of customers each time you announce an event. You can view your subscriber count at any time under the page information in your seller dashboard and keep track of how many loyal buyers you have!
Give it a try today by heading over to your seller dashboard. If you have any questions about this, or any of the advanced features of Ticket247, or even if you would like to arrange a short demo, then head over to our contact us page and we'd be happy to assist!