Have an event coming up, but struggling to fill the guest list? Here are our top tips from social media hacks, to finding the right lineup, guaranteed to boost sales and get people talking.
1. Create a webpage.
Web pages ensure that people know you are legitimate, and it gives them a port of call for all queries. you can have an faq section for common questions and answers, get people to sign up for newsletters, and more! At ticket247 we offer free web pages to those who sell tickets through us, so you can focus on creating the showstopping event. Read more here: https://ticket247.co.uk/SellWithUs
2. Be active on your social media.
Letting people know you're there and listening is vital to brand loyalty, after all, who wants to speak to a robot every time they have an issue? Reply to comments, post regularly, and engage with your consumers in any way. Creating a memorable and accessible Twitter hashtag is one way to sort all of your mentions into one easy-to-find place so you can share posts at the click of a button!
3. Post your reviews!
Reviews say everything! Had an event in the past that had brilliant feedback? Include quotes on your front page so the first thing people see is exactly why they should go – straight from the horse's mouth.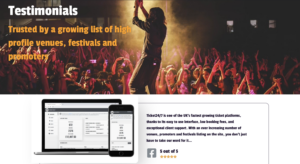 4. Reward loyal customers.
Those people that left reviews? reward them! Let everyone know that by going to your events, they're in with a chance of a VIP experience next time. This can be done by collecting all reviewers and holding a lucky draw for free tickets, an upgraded ticket – or if it's a festival, how about a glamping experience?
5. Ditch the paper.
E-tickets are the way forward. With the worry of paper tickets not arriving on time, shipping damage and even the environment, make your ticket buying accessible for everyone- after all, it is 2021 and who uses paper anymore? with Ticket247, in just a few clicks your customers will be able to purchase and receive their tickets faster than ever.
6. Merch. Merch. MERCH.
People love memorabilia, especially if it's their favourite artist! Many venues use the adrenaline that their customers have when entering/leaving an event to their advantage. Merch on the door can be sold for much more than merch online, and you're guaranteed to make a decent profit! Plus, merch advertises for you, so most of the hard work is done.
7. Know your audience.
There's a reason nightclubs promote on university campuses and not at care homes. Advertise with promo leaflets, bulletin boards, or other out-of-home advertising in areas where your target audiences may be. Holding a grand opening of a new club? entice university students with leaflets that give them 1 free drink upon entry. A theatre event?  Think fancy hotels in the area.
8. Discounts for early sales, ticket batches, and 'last chance' offers.
The early bird catches the…discount?  Offer discounts for early sales, release tickets in batches and advertise each time to get people following and talking.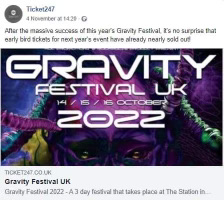 9. Call to action!
Had someone buy a ticket in the past and leave their email/phone number? Send a promotional offer to them they wouldn't want to miss. Make sure your social media channels have easy links available to take your customers straight to where they need to be (preferably, your webpage!).
10. Competitions.
Want to get people talking about you or your event to build brand awareness? Use a competition to win a once-in-a-lifetime experience. By using a competition on social media channels, you can easily get people liking, sharing, and following your event in no time! (But make sure you abide by the terms and conditions of said social media channel, of course.)
Happy selling!