Managing orders and attendees is easy with the Ticket24/7 seller dashboard.
There are two methods by which you can view orders.
Method 1
All of the orders for your events are included in the dashboard's Orders section. Here, you may look for a specific customer by their first or last name using the search option.
Method 2
Scroll to the bottom of the Event Details page by selecting an event from the Events section of the dashboard. Now you can view a list of all the orders placed for that particular event here.

Refunds
By selecting the relevant Refund button on either screen, you will be able to refund any particular order that you select.

Viewing Attendees
If you wish to view all the attendees of a specific event, click on that event on the dashboard. Once you're on the Event Details page, click the Attendees button in the upper right corner. Here you will be able to see a list of all the attendees.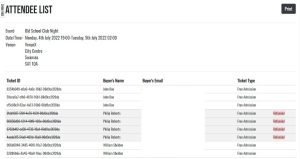 Keep in mind that the printable attendance list can be used as a backup or substitute for the scanning app to manage event entry, but we would definitely suggest using the scanning app as it's not just easier to use but also time-saving.
By using the scanning app, you will also be able to see who attended your event as the attendee list will be updated to show whether each ticket was scanned or not.