Promoting your events is made easier with Ticket24/7 with your free promotion/selling Page and event announcement feature. Keep reading to find out more!
Instant Free Mini Website!
When you sign up as a seller, a selling page will be automatically created with your name and a unique URL. Pages function similarly to a mini website, displaying all of your upcoming/completed events and offering a handy link for you to use on social media or in marketing materials, allowing your customers to find any of your events with just one click!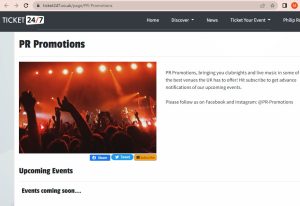 Free Remarketing to Increase Ticket Sales
Remember, when a customer buys a ticket to one of your events, they can subscribe to your page to receive notifications on your upcoming events. You can then use the event announcement feature to specify when to email all your page followers about any new event you have added. This is a very handy remarketing tool and will give you an instant boost in ticket sales. For more information on how it works, please read Our New Announcement Feature blog post.
You may like to create more than one selling page as a way to separate/categorise the different types of events you run e.g. Comedy Nights, Club Nights, Live Music etc., or you can of course just stick with one. Either way, we hope you can see the benefits of using pages and make the most of the accompanying event announcement feature to maximise your ticket sales.
Easy to Edit
To edit your selling page, log into your dashboard and click on the page you want to update. In the upper right corner you will find the Edit Page button. Here you can update the page image with your logo or any suitable image to represent your venue or company by clicking on the default image and uploading your own. You can also add some information about your venue, or about the type of events you host, in the description field.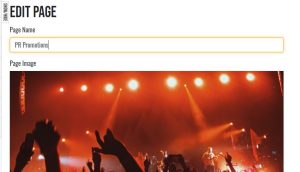 Keep in mind that the friendly URL option is crucial because it allows you to choose a memorable web address for your website that you can share with customers.